School and the Backyard Gang was filmed in Boston Massachutus created by Julie Aigner Clark, whose Daughter appeared as a Cast Member in Season 5. when the show aired on Nick Jr. The Show had Kids called the Backyard Gang. It was a revival of a 60's Show, it had reruns from 1996 to 2002.
TV Show Plot
Edit
In 1994, Nick Jr revived a TV Show on CBS. But with New Segments, also there was a Rap Theme Song and New Backyard Gang Cast Members. The Set was also new! The Kids were on Kids for Character. Also, Kelly Vrooman, Miles Henderson, Bob Fretz, John Vassar, Connie Stevens, and Iesha Couric were reuntied in a Season 4 Episode in the Show's 69th Episode. Maddie Thompson and Anthony Field were also reuntied in another Episode of the Same Show. Mike, Gabi, Danny, and Patrick were reuntied in a Season 4 Episode (Episode 80)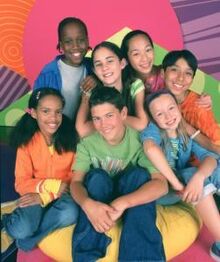 The Videos were Dairy Fun!, Angel Mac, Lobster Mystery, and the Adventures of the Monkey.
LIVE!
Huh?
Surprise
Learning
Come On
Cancellation
Edit
In November 1999 Nickelodeon announced that they will be having auditions for School and the Backyard Gang's 6th season. Even some of the cast members said that the show was having auditions for the show and promoting it. On January 9 and 10, 2000 auditions were held for the new season. Over 3,700 children auditioned for the show in the studio and the expected more than 150 video submissions via mail for the show. Children came from all across the nation to Audition for the show. Casting for the new season was complete all ready by the time April arrived. On Nickelodeon's auction site fans started finding stuff that they were selling from BYG. Some of the items were the season 1 to 3 Mailbox and the Car for the show. They were able to sell the Mailbox but having no luck with the Car. At this time fans thought they were just upgrading the set for the new season but they were wrong. On June 14, 2000, People asked one of the people one on Nickelodoeon if they could take pictures of the crew putting up the set for the new season. They came back to them and said the BYG was no longer in production at Nickelodeon. I even confirmed this on BYG's Official Website and they said the same thing but they did say it was due to a Lack of Funding for a new season. Nickelodeon said that season 5 will be the fifth and final season of BYG. When the word was out the fans wanted to do something, so they decided to create a petition to help save the show. A petition was created, as well a video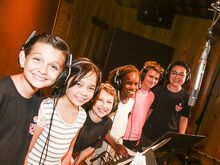 about the cancellation for the show. Fans didn't what the something to happen to BYG. On June 27, 2000, The Official announcement was made at the Daytime Emmy Awards ceremony. On KCronin.com's page she said, "It's such an impossible task going up against Blue's Clues, Gullah Gullah Island and Allegra's Window. So you have to consider the nomination as a win. Can't complain. Nickelodeon gave us 100 episodes and 5 seasons." A few more petitions were created after Noreen announced this. In late September Kaleigh and Glen were talking about School and the Backyard Gang. Glen Berger Said "Yeah, I've had better summers. But things are looking up. I am going to be talking to Mark and Julie in a couple weeks to see if we can't get the Backyard Gang back in the game." Noreen replied by saying "Good Luck with Mark and Julie." Those poor Kids need mouth to snout resuscitation! There has been no word on this at this time. On November 4, 2000 BYG, ended and finished its fifth season. The show ended with Kaleigh coming to Studio D while singing a song by saying good bye to all the Backyard Gang's fans. Kaleigh did say she did not redo the final scene of BYG, by saying that she originally did that scene back in February when the Writing of the Song was taking place. Soon many fans started reacting by creating petitions to save the show as well.  Also the signatures on the petitions kept on growing. In November 5, 2000 a new video came to Baby Einstein, with the new Baby Einstein video some more bad things would happen to BYG. In December 2000 on the BYG, page they said in a comment, they have some great ideas to keep things going. But won't know if it a go for several months. By the end of the year there were 7 petitions all together now we have 14 petitions as of today. In 2001, Some of the Nickelodeon stations started taking the show off its lineup, for good. In June Nickelodeon announced that the government wanted to get rid of public funding. This got the attention of more BYG, fans and the petitions started to skyrocket. Also some of the stations started only showing one or two seasons of the show and not all of them anymore.  The producers at Nickelodeon said they are actively pursuing ways to allow the Backyard Gang to live on in new and exciting ways and possibly even through new mediums. After two years, since the announcement (2002), many fans were still upset the show was not coming back. Petitions kept on growing and going very strong. Along with the petitions now, a blogg, email and account were for the petitions. Kaleigh did confirm she still does the video games for the web site. Parents have commented on the petions and Nickelodeon BYG Site and said there children are really upset that the show is done. Some of them are finally old enough to audition for the show and now they can't.
Many ZOOMers and TV stars have signed the petitions. Here who has signed it. 
Pablo Velez Ron and Natalie Daze Steve Burns
Lance Robertson Kaleigh Cronin Sarah Rose
Alisa Besher
Frankie Murz
Gabrielle Margas Miranda Cosgrove Candance Cameron Bure Other BYG Members are on the petitions.
7 Kids were chosen as the Backyard Gang
Britney Spears was the Most Famous Backyard Gang Member. Also with Gabi Douglas and Naura Pole.
Every Season the Cast leaves and gets replaced with new BYG Members
Season 1
Edit
Maria- Maria is on Kids for Character. She has a Bunch of Nicknames and has a Pet Dog named Nona. She has a Hamster who sings and has Three Younger Sisters. She did Science activites at her house! She knows to hula hoop
Gabi- has no Pets, She has A Sister and a Brother. Her Real Name is Ga

brielle and her Nickname is Gaby.
Nicky- is the Youngest BYG Member from Season 1. He loves Cafe BYG Segments!
Johnny- has Lots of Cousins. He wakes up every Morning sleeping in.
Gabrielle- Has a Loud Drum
Ruby- is the Oldest BYG Member from Season 1
Joseph- Loves Food
Season 2
Edit
Britney- Is the World's oldest Season 2 Cast Member, she loves Soccer. She loves Grape Flavor Cupcakes and she loves Pink! She loved to make Disney Eggs. She wants to be a Dog; she's still Human! She can do a Show on Nature. She wants to be a Florist and soon, she will be 17. She has a Cat named Dog! She likes Animals. She loves to eat. Even she hates Karate! She likes the Dog who saved the World

Mike- Loves Dressing Up!
Sarah- wants Sugar Flour Eggs and Milk to her Cupcakes
Tony- is the Youngest Season 2 Cast Member
Chuck- is So Silly
Season 3
Edit
Patrick- Has a Pet Snake
Justin- Loves to Cook
Naura- Her dog is Not so Bright
Lexine- Loves to Solve Puzzles
Alisa- Loves Rasberries
Season 4
Edit
Caroline- Builds her own Websites
Kenny- Wants to learn about frogs
Issac- Eats Ice Cubes
Season 5
Edit
Frankie- Lead Sings in a Rock Band
Kaleigh- She is the World's Oldest BYG Member of Season 5. She wants to farm on Cheese.
Aspen- She is the Creator and Songwriter's Daughter. She loves to Learn.
Theme Songs
Edit
The Theme was likely Rap
Distribotion
Edit
The Show was Produced by the Same People who do Baby Einstein
Merchandice
Edit
The DVDs were "Backstage", How we became the Backyard Gang, and a Behind the Scenes look
The Books were 4, 2 from Season 1 and 2 from Season 2
Refrences
Edit
In a Episode of Full House, Danny asks Michelle if she speaks Wendlla Pwendlla
Ad blocker interference detected!
Wikia is a free-to-use site that makes money from advertising. We have a modified experience for viewers using ad blockers

Wikia is not accessible if you've made further modifications. Remove the custom ad blocker rule(s) and the page will load as expected.